Welcome to Recipe Wednesdays!
Today's featured fall party beverage is Charlie's Apple Sangria!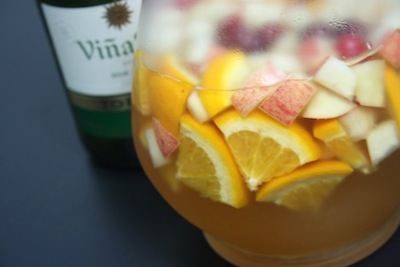 This was my favorite homemade sangria to date. It is just strong enough, just sweet enough, and the taste is amazing. The apple liquor I used has a 17%  alcoholic strength and is a mix of Calvados and apple juice. You would obtain the same result by mixing 1/2 Calvados 1/2 apple juice. You could also use Appelkorn (but it would taste less like "real" apple) … or only Calvados … if you want an extra strong sangria!
And now for this week's recipe link-up:
Today we want to hear your favorite Thanksgiving or fall appetizers and hors d'oeuvres. Please limit yourself to 2 recipes per member, and make sure to include the name of your recipe. Thanks! And as a head's up, next week's theme will be your best recipes using Thanksgiving leftovers.