20 Aug 2015
Blog Tip Thursday: How to Make the Most of Blog Link Ups
Every week, we share one of our favorite 'how-to' posts about blogging, social media, and the community we LOVE to love. Our desire is you consider HLB a resource in your efforts to blog BETTER – we want to be stronger bloggers ourselves, and we see the desire for stronger posts and cleaner designs. We understand wanting to know the BEST plug-ins, aps, programs, and resources to keep your site in tip top shape. And nothing makes us nerd-out more than getting super meta about all things blog-world. We're not experts, we're simply bloggers ourselves – sharing our own experiences, tips and tricks of the trade each Thursday with a BTT post. We welcome your questions, your suggestions for future topics, and your 'how-to' post recommendations to Emily at relishments@gmail.com!
This week's post is from Coco, who writes at Running with Perseverance.
---
I love participating in blog link-ups. They can be a great way to expand your horizons on a topic or cuisine, discover new blogs, and get to know other bloggers. I have badges for my favorite link-ups in my side bar, but I am still discovering new ones (like Deb's Wednesday Word). Now that I've been hosting and participating in blog link-ups for a while, I thought I'd share my tips on how to make the most of blog link ups.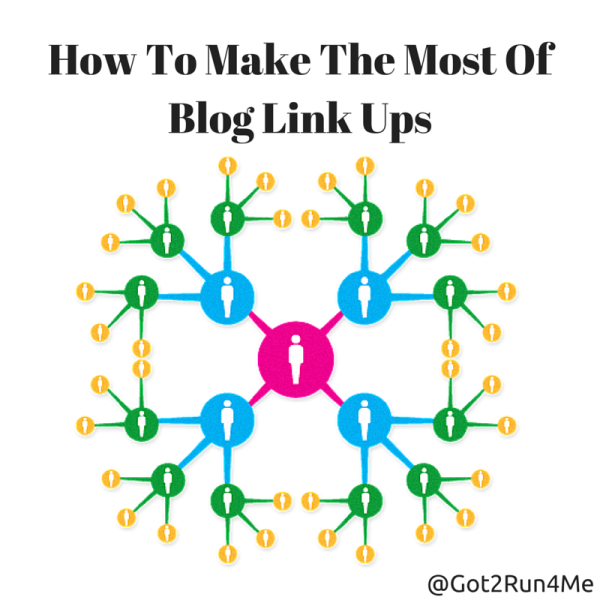 These practical tips will help you get the most out of blog link-ups and expand your blog readership.
1. Play by the rules. The first rule of success for blog link-ups is to play by the rules! Different link-ups have different rules. Most ask you to include the badge on your blog and/or link back to the hosts in your post. Some have specific themes or topics. Some have a topic but welcome other posts in the same genre (such as any running-related post or any recipe). If you don't play by the rules, the hosts may delete your post, and you are likely to annoy other participants who are puzzled when they click through from a recipe link-up and see your post on car repair.
2. Link up early. If you add your post early in the link-up period you are more likely to get more views, simply because more people will visit the link-up page after your post is there. Consider setting a reminder to join the link-up soon after it goes live or right after you publish your post.
3. Choose an enticing image and/or name. Most link-up tools let you select an image and name to show in the link-up. Give some thought to these choices. Choosing the link-up badge as the image shows that your are following rule #1, but won't help your post stand out from others. Most people choose their name, their blog's name or the post title for the "name" field, but depending on how many characters are permitted you may be able to fit both your name and a catchy title–it doesn't have to match the post title exactly.
Click here to read the rest of Coco's post, including two more tips for making link ups work for you!